Living with a disability never been easy. Maggie Vazquez completely agrees with this. The 10-year-old girl from Illinois has cerebral palsy, she loves to go outside, but she needs a walker to help her move around. That's why she finds it very hard to do the things she wants to do.
Maggie was told that her class was planning to go for an overnight camping trip, she felt sad and helpless. Maggie's walker doesn't function in the woods but the little girl didn't want to stay at home while her classmates have fun.
However, her teacher, Helma Wardenaar refused to let that happen. As per ABC, Wardenaar insisted Maggie would go camping too, so she looked for a way and she came up with one clever solution.
Maggie's mom, Michelle, describes her daughter as cheerful, positive and funny girl: : "She has a funny and quirky sense of humor. She loves to work on fine detailed art coloring books and has started some independent drawing. She loves music. She loves being outside, but the motor challenges make it difficult."
Knowing how she is, Maggie didn't stand the idea of being left at home while her classmates enjoy the fun trip.
Fortunately, Maggie's teacher Helma wasn't about to let that become a possibility. She first checked to see if traditional wheelchairs would work, but it transpired they wouldn't be able to handle the terrain.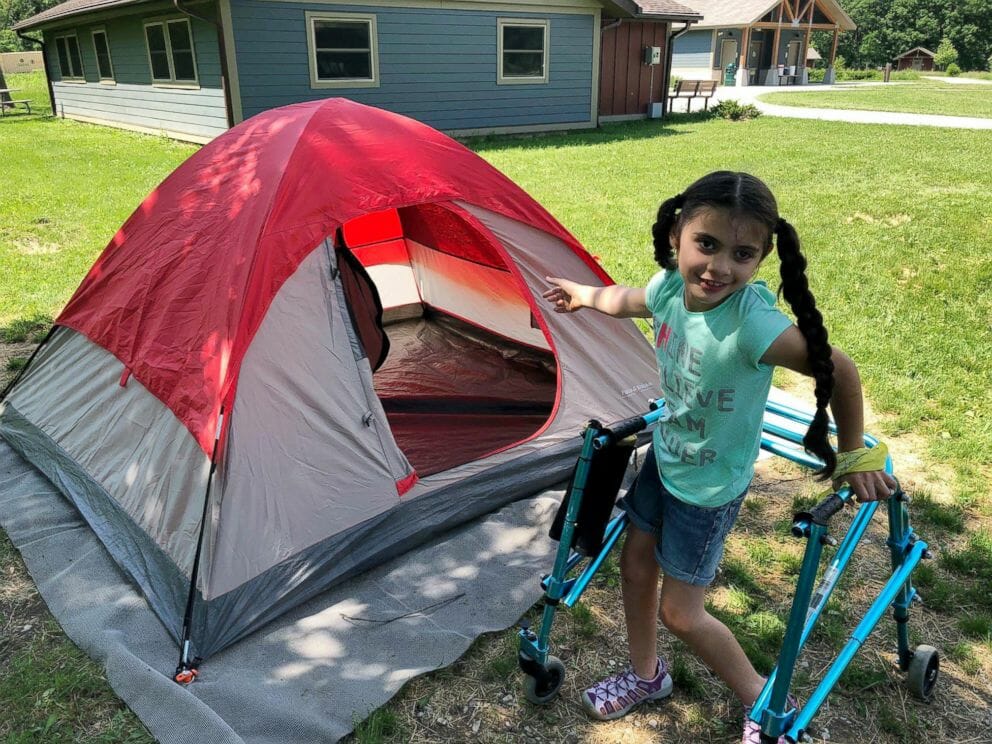 "There was no question she needs to come with us," Wardenaar told CBS News. The question then became: "So how are we going to do this?"
A flurry of ideas were considered. A wheelchair. A barrel. Renting a pony.
"I inquired with a friend who had a pony, but the forest preserve didn't let us because ponies are only allowed on the horse path," Wardenaar said.
At one point, Wardenaar wanted to bring Maggie on a horse anyway and face a fine, but later admitted "that wouldn't be a good example if I purposely broke the law."
She took her quest to Facebook, where she solicited advice from her friends. She eventually found a lead with an employee named Greg at Recreational Equipment inc., an outdoor gear company.
Greg couldn't find a carrier big enough for Maggie at first. However, two weeks later, he contacted Wardenaar and found an item called the Freeloader that would be more suitable for Maggie since it tailors to taller children.
With Maggie's blessing, Wardenaar purchased the $300 product.
Then from May 30 to June 1, about 50 fourth grade students and 10 school personnel embarked on the school trip.
"We saw birds, frogs and deer," Wardenaar said. "We were able to do everything her peers were doing, she was one of us."
Carrying Maggie through the outdoors was no easy task, according to Wardenaar. Still, Maggie made it all worth it.
"There were moments where it was pretty hard," she said. "Maggie was amazing. She sang her own song. When you have a child who is enjoying the moment and being with her peers, those were moments that I was able to push through."
Maggie's mother, Michelle Vazquez, raved about Wardenaar, who has known her daughter since the first grade.
"It's been amazing, right off the bat, she met Maggie and got involved," Vazquez said. "She has always been advocating for her. It's not just with the camping trip that's just one little piece. There's a lot of things she does."
Vazquez said Wardenar went "way above and beyond" for Maggie on the recent camping trip.
It feels so good to see a teacher doing this much for one of the students – Helma is such devoted and good teacher to her students. SHARE this story to help us pay tribute to Ms. Wardenaar and her efforts. It's the least we can do!